Before 2005, non Muslim are not permitted to stay overnight in Moulay Idriss. This town has a deep history dated back to 789, Moulay Idriss el Akhbar, the great grandson of Phophet Muhammad came and bring along the teaching of Islam and started a new dynasty. He too initiated the construction of Fez and his son, Moulay Idriss II continued the Idrisid Dynasty after his demissed.

Moulay Idriss el Akhbar was decendent from Phophet Muhammad's daughters' Fatima marriage to His cousin, Ali. In 792, his success resulted in him being poisoned by the Umayyads from the East. His work of converting the Berber tribes pagan region to Islam has united the region after many years of conflict. He was regarded to be the founder of the first Islamic Dynasty in Morocco.

Today, the most important monument to all visitors will be the tomb of Moulay Idriss which is being rebuilt by Moulay Ismail (1672-1727) which are strictly for Muslim only or simply soak in the ambience of great energy of this holy city. Every year, second week of August, Moulay Idriss will be hosting "the summer festival" which is the pilgrimage of Moroccan to this holy land signifying the deep respect and spiritual awakening of this town can bring one.

Moulay Idriss Zaouia located in the small town of Zerhoune with the Volubulis, Roman city ruins opposite each other. Census of population done in 2014, 11,615 people live here with a slow pace lifestyle. Unassuming simple row of shophouses flanking both sides of the main uphill road leading the way to the big square. Zerhoun is a good place to experience ordinary Moroccan life. Both sides of the road sell local produce, tiny spices market, authentic Moroccan butcher BBQ restaurant and village type grocer which serve the residents as well as visitors that drop by for a quick look around.

This town can be very picturesque from a far but as you wonder closer and as a non-Muslim, it is advisable to obtain the service of a local guide to avoid getting lost and overwhelm with request of assistant which can be sometimes a bit of irritating.

From the square, the entrance is very visible with a wide, tiny tiled walkway. This is a pretty big complex with layering of space and a mega doorway with steps over the curb. Once you sight a fountain in an open roof courtyard, you can now take off your shoe and on your right will be the Moulay Idriss zaouia and on the left will be the mosque. For wudu, just walk all the way towards the back potion, take a few steps down to another courtyard. You may now put on your shoe again. Lavatory and wudu is located at the far left corner which separates the male and female section. It is advisable to bring along a bag to keep your shoe with you when you visit Moulay Idriss and if not, just put outside like everyone does, including myself.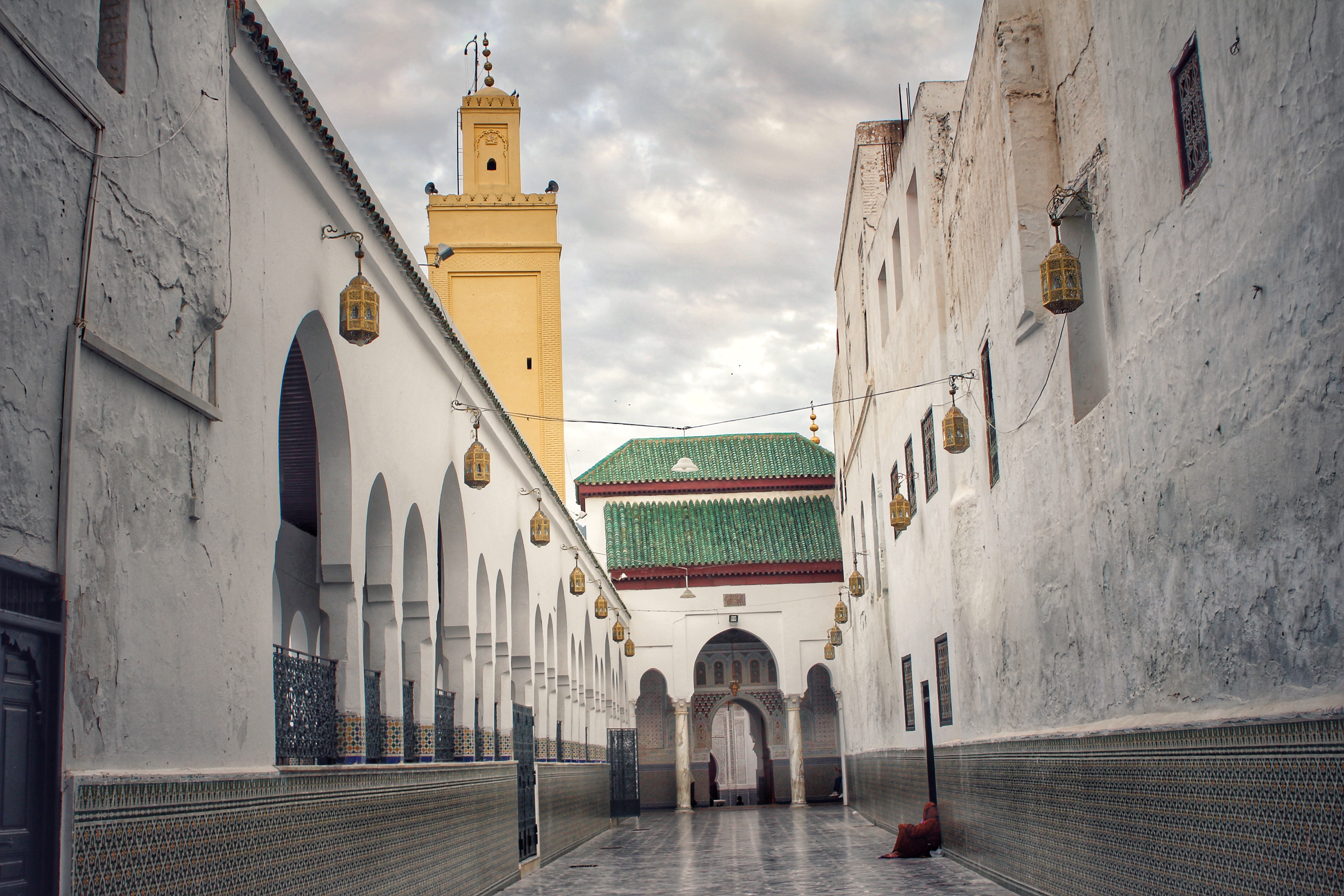 This mosque and zaouia is a very busy place throughout the day with many visitors that pay homage to the saint and take this opportunity to stay for prayers to experience the spiritual aura of this place. Sweet azan can be heard during prayer time and many groups will gather for dhikr to the saint day and night. This zaouia can easily accommodate 100 visitors at the same time and the same goes to the mosque section too. It is a huge building with "open to the sky" courtyard design in line with Moroccan architectural concept, wide side walkway with huge round majestic pillars, mega chandelier and intricate geometric tile work, one can get a little dizzy in this open vastness of space. Or maybe, your spirit is liberated and momentarily experiences the freedom and wisdom emitted by the energy of this place. One can go near and touch the velvety draped tomb for a silent prayer, request for insight, sharing of one's dreams or simply to greet your saint. A donation box is located in front for kind hearted soul contribution.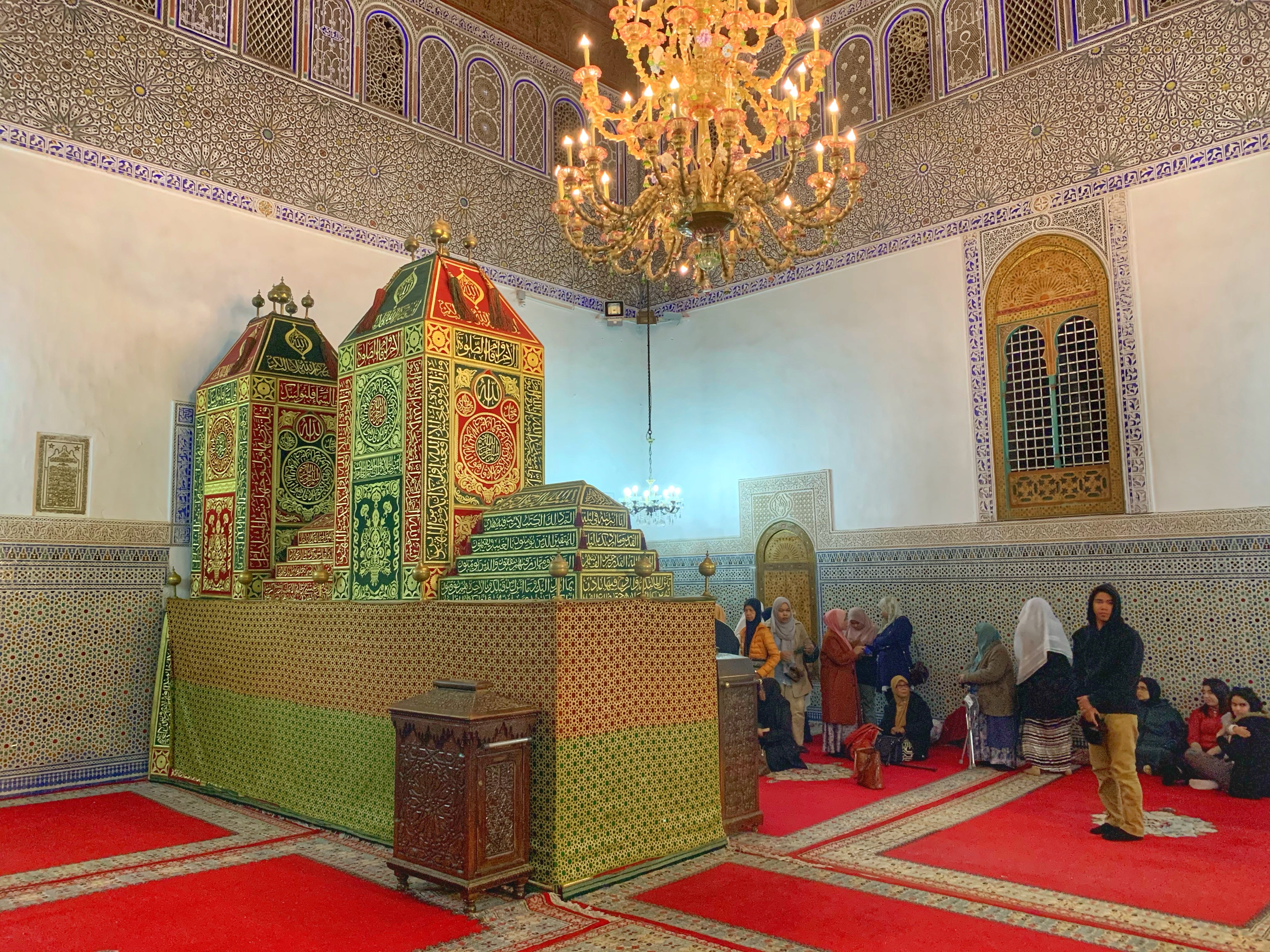 If you are here, do not forget the Idriss Medersa which was built by the Roman's material taken from nearby Volubilis, which has the most unusual round cylindrical shapes minaret not seen anywhere else in Morocco mosque architecture with green mosaic inscribed Quran.

As for me, just being here in this quiet hillside and orderly town, cool your soul and energises your mind. Moulay Idriss is not a place where one come to see things but "view" it through one's heart.

A pure heart open to the light, Will be filled with the very essence of the Truth. RUMI